By Melissa Dittmann Tracey, REALTOR® Magazine
Does your listing's lighting need a contemporary makeover? Edison bulbs may be the answer. These clear glass light bulbs, in which the center is exposed, have a nostalgic-like appearance and let out a nice warm glow. They can make your lighting stand out.
Edison bulbs may best fit in an industrial décor style, but we're seeing them weaved more and more into other design styles too.
Table lamps, chandeliers, and pendant lights are getting an Edison-bulb upgrade. Not to mention, they're popular outside at the moment too with stringed Edison-style bulbs decorating more outdoor spaces. (Read: Add a Party Vibe to Your Outdoor Staging)
Check out some stylish ways Edison bulbs are being used in different home styles.
Posted: May 21, 2018, 7:00 am
Have a home you recently staged that you'd like to show off here at Styled Staged & Sold? Submit your staging photos for consideration, along with three to five of your best spruce-up tips. Contact Melissa Dittmann Tracey at mtracey@realtors.org.
Home stager: Cyndi Ryan with Staging Gracefully, Middle River, Md.
About the property: A 3-bedroom, 3-full bath single-family home with a 5-car garage and open floor plan in Rosedale, Md. The property was completely restored by Yanni LLC.
Photo credit: Cyndi Ryan with Staging Gracefully, Middle River, Md.
Photo credit: Cyndi Ryan with Staging Gracefully, Middle River, Md.
Photo credit: Cyndi Ryan with Staging Gracefully, Middle River, Md.
Photo credit: Cyndi Ryan with Staging Gracefully, Middle River, Md.
Photo credit: Cyndi Ryan with Staging Gracefully, Middle River, Md.
Cyndi's staging tips from this property:
1. Clean is serene! A fresh, bright decor brings a feeling of peace and tranquility. Whites and beiges paired with a darker wood is a great way to really extenuate a crisp, clean palette. Keep counters clear. Tuck toasters, can openers, and other handheld appliances away to maintain an open non-cluttered prep area.
2. Art does not have to be store bought pictures and paintings. Be creative. Clocks have so much personality now. Choose one that really demonstrates the style of the house and because of their popularity they are also easy to find for an inexpensive price. Create colorful abstract canvases with acrylic paint. Mount an old piece of driftwood or an old farm tool over a sofa for a dramatic textured focal point.
3. Stage the open house. Your refreshments may be store bought but your presentation shouldn't show it. Break out those gallon pitchers with the cute spout at the bottom and invest in a few really awesome serving plates and racks. Add fresh cut fruit to your drink cups. You want buyers to feel they just walked into the next home where they will entertain friends. Add a little soft jazz playing in the background or music that is gentle and peaceful.
Photo credit: Cyndi Ryan with Staging Gracefully, Middle River, Md.
4. Unclutter. Declutter. Disclutter. Keep your staging simple. Whether for selling that property or even in your own home, no more clutter. The era of knick knacks and curios full of figurines left us some time ago. Minimize to a few staple pieces atop cabinets and dressers. Bring in fresh flowers (or even realistic artificial) and greenery. Let nature help create a space that is welcoming and spacious.
5. Dress the house for the occasion. Ever gone to a party and found that you were overdressed or under-dressed? Know your audience. Designing decor that is the most trendy, cutting edge in the world of interior design isn't what will speak to most buyers. Buyers are looking for a relateable atmosphere where they can picture themselves. Design your staging to meet the price of the home and neighborhood it's in. Also, be sure to invest more in homes that will bring a clientele that is looking for a bit more drama. Don't be afraid of jewel tones or rich textures. Just know what style speaks to your potential buyers for that home.
Posted: May 14, 2018, 7:00 am
By Melissa Dittmann Tracey, REALTOR® Magazine
Just when everyone was getting their hygge on—a new staging style has taken hold. Instead of it being all about cozying up your home décor, now it's all about stripping it down and being minimal.
The Scandinavian concept of lagom began taking hold last year and is catching on more in 2018. Case in point, Pinners on Pinterest are searching for "lagom" decorating ideas 905 percent more this year than they were in 2017, according to the 2018 Pinterest Home Report.
Lagom is usually described as "not too much, not too little, just right." For home staging, lagom fits right in. It's all about decluttering a space. You decorate with only the essentials.
The Danish concept of hygge—all the rage in recent years—was all about taking your décor to the cozy side. Think lush blankets and fireside interiors.
With lagom, focus on functional furnishing pieces—like those that double up as storage–and that have a minimalistic look. Only a few colors are typically used in the home, such as complementary neutrals (e.g. white, grey, and beige). Pair down accessories from bookshelves and tabletops. Create just one focal point per room, such as a wall art piece or a statement sofa or modern rug. And, add in some indoor plants as a nod to nature and sustainability, which also goes along with the lagom mindset.
Such principles like these from lagom are certainly starting to sound a lot like some of the guidebooks on good home staging!
Posted: May 7, 2018, 7:00 am
By Melissa Dittmann Tracey, REALTOR® Magazine
From rustic to modern to even the most luxurious interiors, homeowners are sprucing up their spaces with cowhide. Cowhide rugs have seen one of the biggest jumps in Google searches on home design trends over the last decade, according to Digital Third Coast's latest design trends study, based on search engine results.
There are many types of cowhide to choose from, such as solid colored, cuvy shaped ones to black and white cowhide to ones with brown accents. The brown accent cowhides can be more subtle when used up against hardwoods or brown leather furnishings. The black and white cowhides, meanwhile, are for the wishing to make a bigger statement.
Where should you add a cowhide? Here are a few ideas to show how the trend is being used in home design.
FURNISHINGS: A cowhide accent chair or ottoman can create a focal point in a space.
RUGS: A curvy cowhide rug under a coffee table in the living room can help anchor a space. Designers say the cowhide even helps "loosen up" an otherwise perfectly symmetrical balanced space.
ACCESSORIES: Cowhide accessories can also make an impact, such as cowhide patterned throw pillows or cowhide print blanket to dress up a brown or black sofa.
One thing to add with this trend: Don't overdo it. You don't need a lot of cowhide to make a statement.
Posted: April 30, 2018, 7:00 am
By Melissa Dittmann Tracey, REALTOR® Magazine
Want to add some greenery or a garden to a backyard but tight on space? Try a vertical garden. By going up with your plants instead of spreading them out, you'll be able to squeeze a garden in even the smallest of spots.
Vertical gardens are considered a hot landscaping trend. Use trellises, planting walls, and other structures to attach plants too. The vertical gardens can also double as a way to add privacy to a small deck or patio.
Create a vertical wall of planters, such as by using mason jars of ornamental grasses. Or, plant a variety of vegetables or flowers. Attach multiple containers to a frame or wall and then fill them up with plants.
But a vertical garden still requires a lot of upkeep. Be sure to prune plants appropriately. Also, you'll want to make sure the upper levels of the plants don't overshadow the lower areas and the garden stays vibrant and green.
Read tips on getting started with a vertical garden from the National Association of Landscape Professionals.
Photo Credit: Photos by Linda Oyama Bryan for Mariani Landscape, Lake Bluff, Ill., a member of the National Association of Landscape Professionals
Photo courtesy: Dennis Hammett, Ebby Halliday REALTORS(R)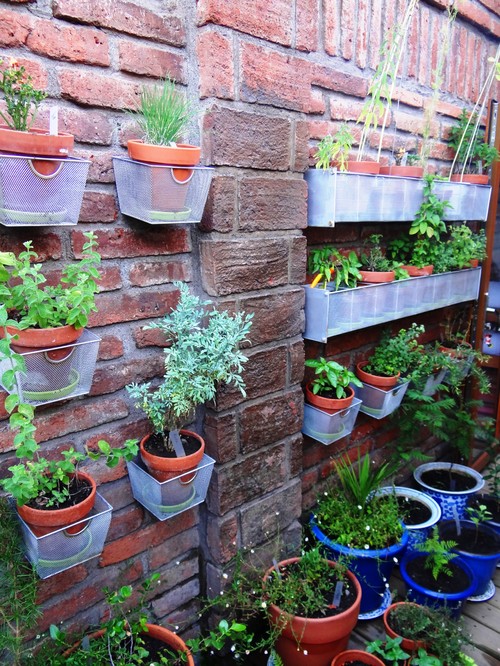 Posted: April 23, 2018, 7:00 am
What's your home improvement persona: The Sensible Improver, the Project Planner, the Reliable Renovator, the Visionary, or the Extrovert? View this infographic from the Home Projects Council to learn the five main home remodeling personality types.
Posted: April 16, 2018, 7:00 am
Calling all stagers! Realtor Magazine is on the lookout for great examples of staging a space in some of today's most popular home styles, from farmhouse chic to modern or contemporary. I'm looking for some real estate professionals and stagers who would be willing to show off some of their favorite staging styles.
If you have a great example of a home staged in one of the styles listed below, please contact Melissa Dittmann Tracey at mtracey@realtors.org. Share with us a room photo and some of the staging accessories you used to enhance the look. We'll be sharing some of our favorite submissions in an upcoming guide at Realtor Magazine online.
Design Styles for Staging Photos
Modern
Farmhouse chic
Rustic
Beach house
Industrial
Traditional
Posted: April 13, 2018, 6:50 pm
By Melissa Dittmann Tracey, REALTOR(R) Magazine
Pocket doors are not only getting a chic makeover in recent years, but they really can be key to solving some design challenges in small spaces too. And for the "wow" factor, try a double-pocket door.
Pocket doors are those that slide right into the wall when opened. It's like they were never there. You don't have to account for a door swing like a normal door, which is a bonus in areas tight on space.
Pocket doors are hardly new. They've been around for ages. But they did once suffer from an image of looking flimsy and cheap.
That's not today's pocket door. The double-pocket pocket door has doors that slide open from either side, tucking into their corresponding wall.
There are many styles to choose from. For example, an all-white French door one with glass window panes allow more brightness and can dress up the doorway even when you want to close off a space. Or, there also are some double-pocket doors that can stretch all the way to the ceiling for some added drama.
Pocket doors can be a great solution to section off closets, bathrooms, laundry rooms, or a home's study. They also can add more privacy to a home with an expansive open floorplan. After all, the one growing gripe from homeowners with open floorplans is that their floorplans at time feel too open. The double-pocket door just may be one stylish solution to help solve that problem. And when the doors are tucked into the wall, you may never even known it was there.
Posted: April 9, 2018, 7:00 am
By Melissa Dittmann Tracey, REALTOR® Magazine
Outdoor lighting isn't just for the holidays. You can illuminate your outdoor living areas anytime of year. Stringed bulbs are becoming a "hot" outdoor trend this year. These outdoor clear, vintage lights have big rounded bulbs that can really create a festive flair in a backyard. They're reminiscent of the lights used at an outdoor street fair.
Homeowners are draping them across the top of their pergola, or along their back deck. Some owners may stretch them above and across their yard to create a canopy of lights.
Watch out that they don't become an eyesore during the daytime. The glow at night are when these lights shine. Tuck them into the top of a pergola. Or, for a photo op, drape them temporarily across a courtyard. Take a picture of it at dusk for a listing photo that shows off the entertainment space of a backyard.
Or, string the lights to illuminate the backyard during a twilight open house. Check out how these designers used them.
Posted: April 2, 2018, 7:00 am